The IPPA Conero festival is hosted by Civica Scuola di Musica "B. Gigli". It is held in the hometown of one of Italy's most famous poets
—-Giacomo Leopardi

, by common assent is the greatest Italian poet since Dante. He composed only forty-one works, of which L'Infinito is one of the best known. Its simple beauty has attracted many translators.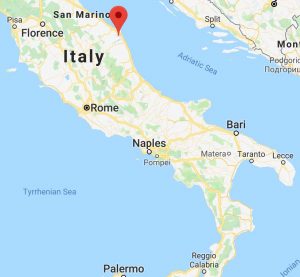 Prolific writer, translator, and thinker Giacomo Leopardi was born in the small provincial town of Recanati, Italy, during a time of political upheaval and unrest in Europe created by the French Revolution. Although his aristocratic family was affected by the instability of the region, Leopardi was tutored extensively under private priests from an early age, showing a remarkable talent and thirst for knowledge. As a sickly adolescent who was often confined to the household, Leopardi spent most of his time in his father's extraordinary library, immersing himself in classical and philological knowledge. Within years of independent study, Leopardi became fluent in reading and writing Latin, Greek, and Hebrew, while he began translating various classical texts including Horace and Homer.
Giacomo Leopardi Poem
L'infinito
Always dear to me was this lonely hill,
And this hedge, which from so much part
Of the ultimate horizon the view excludes.
But sitting and gazing, boundless
Spaces beyond that, and more than human
Silences and profoundest quiet
I in thoughts pretend to myself, where almost
The heart is overwhelmed. And as the wind
I hear rustle through these plants, I such
Infinite silence to this voice
Go on comparing: and come to mind the eternal
And the dead seasons, and the present
And the living, and the sound of it. So through this
Immensity is drowned my thoughts:
And being shipwrecked is sweet to me in this sea.
In 2019, the first Conero International Piano Festival was successfully held in Recanati, Italy. A pioneer in including piano pedagogy in the festival program, it breaks the performance-oriented mode of the traditional music festival, with students learning, and teachers learning by teaching, making piano performance and piano teaching complement each other in a self-reinforcing process, and bringing a full experience of the combination of performance practice and music theory to every participant.
This festival has always been striving to provide the best quality music resources to young pianists and piano teachers, and to support their passions towards performing and teaching.
We invite world-renowned musicians to customize programs for performers and teachers at different skill levels, aiming to provide a quality educational experience for every participant.