2023 Conero International Piano Festival
Dates: August 1st – August 10th , 2023
Location: B.Gigli School of Music, Recanati, Italy
Application deadline: June 1st, 2023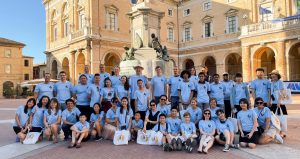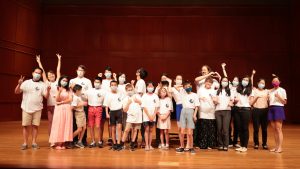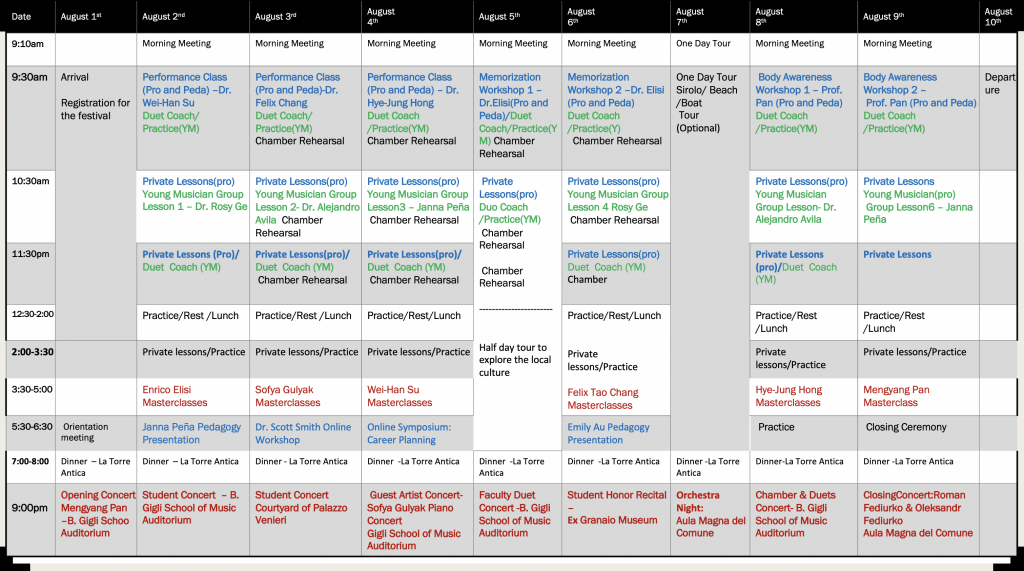 This is a comprehensive schedule covering all the programs.
YMP=Young Musician Program;Pro= Professional Pianist Program; Peda= Pedagogy Scholars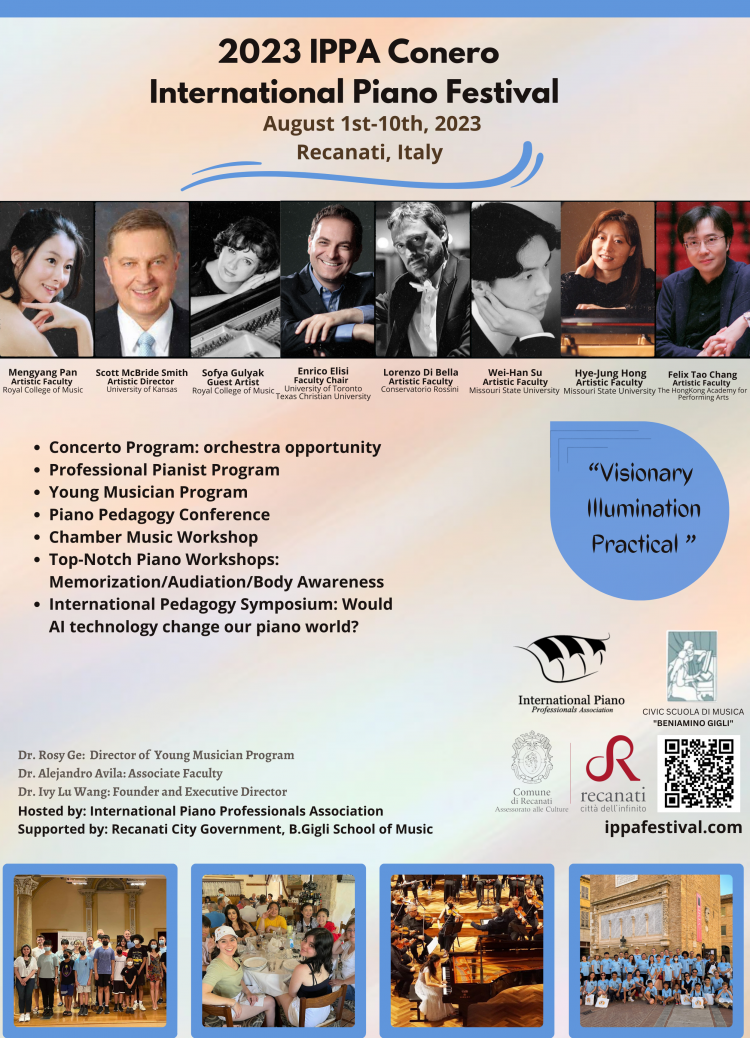 2023 Innovative Workshops
The present workshop illustrates techniques by which someone with the intent of practicing creates a mental representation of a preconceived idea or action to enhance performance. Through increased focus and concentration, pianists will learn how to study portions of a score in their minds without spending considerable time at the piano.
While they cannot replace the actual practicing at the keyboard, the tools presented during the workshop are invaluable mental rehearsal devices.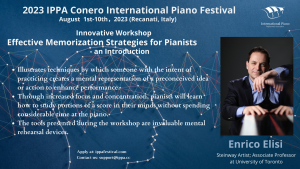 Performance of any kind demands a high level of energy and coordination, piano performance is no exception. In the mastery of its art, students need directed body use and refined attention to achieve coordination, thus gaining the physical freedom to communicate and express music organically.
This session will focus on improving the body awareness of each individual in practice; cultivating the development of kinaesthetic sensory, with particular reference to posture, tension, muscle and joint functionings and choreography.
Through various exercises, students will be invited to take responsibility for themselves (i.e. their thoughts, actions, feelings) and to realise that they have the power to help themselves independently.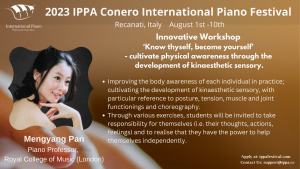 The great 19th-century teacher Theodor Leschetizky was quoted as saying "if a pianist sings while he is performing, it will be a good concert. If there is no singing, it will not." He didn't mean pianists must take voice lessons. His point was that internal singing triggers what scientists today call audiation, the ability to hear and feel music deeply without the presence of actual sound. Join Dr. Smith to learn more about how to improve your own "deep listening" and discover practice techniques that will improve your playing immediately.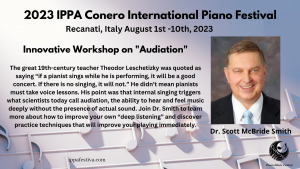 Piano Masterclasses and Lessons
 Lorenzo Di Bella ( Rossini(Conservatory – Italy)
Enrico Elisi  ( University of Toronto – Canada )
Scott McBride Smith ( University of Kansas – USA)
Felix Tao Chang ( The Hongkong Academy for Performance Arts – China)
Hye-Jung Hong (Missouri State University – USA )
Wei-Han Su (Missouri State University – USA )
Mengyang Pan ( Royal College of Music – UK )
Sofya Gulyak ( Royal College of Music – UK )
What else is going on at the festival other than exclusive programs and professional music activities?
Perfect vacation location: 16mins from Recanati to the beautiful Porto Recanati beach, 30 mins from the Ancona Airport. 
Immerse yourself in authentic Renaissance Culture: Recanati was founded around 1150 AD from three pre-existing castles. Walking through the ancient stone road in town, passing by all the incredible historical architecture, villas, churches and museums are very special experience. 
City of poetry: It is the hometown of the famous tenor Beniamino Gigli and the poet Giacomo Leopardi.
You will hear opera when you walk through the town-the rich culture is the biggest blessing. 
Wine Tour: Of course, how can we miss that!  Enjoy the beautiful view and take a break from the intense festival activities! Festival will schedule a wine tour for parents and adults. (optional with extra fee)
Women's Topics Discussion: All women are welcome to join in this special event from the festival.  All topics are open to share, including friendship, marriage, family, women's leadership, work-life balance and so on. It is a place to find support and courage from all women about your thoughts and ideas. We hope the festival can build a supportive and wise community for students, parents and teachers through those important topics in our life. 
Beach Day:  Even with our intense festival schedule, we have to take in some of the beautiful Italian scenery. We practice hard, and play hard!
More information about the festival that you need to know:  
I will need to apply for a visa to travel to Italy. Can you provide an invitation letter?
·       Yes. Let us know you need it and we will send you the official invitation letter once we receive your deposit. 

How will hotel accommodations work?
Every festival participant will be assigned to a two-bed double room. 

If you have any preferred roommate, or any special requests such as a family room (more than two people), 

please let us know as soon as you can. August is the highest vacation season in Italy, and hotel rooms are very limited.   

Festival tuition will include lodging at a local hotel. But another option is a four-star hotel (Gallery Hotel Recanati); it is one of the best hotels in town. In order to upgrade to the Gallery Hotel, $360 /person is required before June 30th.  
 
How will meals work?
Breakfast from the hotel is included. 

For lunch, you are on your own. Since we have very limited time during our busy festival schedule, in general people don't have a big lunch. Feel free to explore local cafes, restaurants, or whatever you like. Please be aware that most places close late afternoon until 7 or 8pm.  

The festival will provide a buffet style dinner every night at "Ristorante Pizzeria La Torre Antica

, one of the best restaurants in Recanati.  
 
What is the policy for underage participants?
Students who are under age 18, will be required to travel with a parent or guardian (an adult who is willing to assume responsibility for the student during the trip).  If you are coming with a parent or guardian, they will also need to submit the application form on the festival page with the Auditor/Guardian category. There is no application fee for parents and auditors.
 
What is the travel situation?
Flight tickets

:  It is your own responsibly to book the travel tickets to Recanati. The two best options for flying in are Bologna and Ancona. We recommend flying to the nearest airport, which is 

Ancona (AOI).

Munich is a good place to transfer the flights to Ancona. Ancona is about a 30 minute drive to Recanati

, and you can get a taxi from there. 
Bologna is a bigger transport hub, so you can often find cheaper flights there. But you will need to take a three and a half hour train from there to Porto Recanati. 

Taking the train requires taking some regional lines which are sometimes not convenient and may be more of an adventure that you bargained for during holiday season, but if you are an experienced traveler it is doable.

Please let us know your flight arrival times so we can help arrange a shared taxi with other festival participants to reduce your cost.



What time do we need to arrive?
Festival

 registration

 will be open August 1st from morning through 4:00pm. Opening meetings will be arranged after 4:00pm. 

 
 
When is the deposit due?
The $500 deposit should be paid within 7 days of your application being

 accepted

.

 The deposit is non-refundable. The full tuition will be due by June 20th.

 
 
Do I need travel insurance?
The festival requires everyone to have health insurance. If you aren't covered by your own health insurance policy (or aren't sure), we strongly recommend purchasing travel insurance. It's extremely cheap (can be as inexpensive as $30, depending on what features you get). Please do your own research, but one company that is available is: https://www.axa-schengen.com/en/ (we have no affiliation). 


What do I need to sign?

You will be signing the following documents before the festival starts: IPPA Conero Festival Assumption of Risk, Release of Liability, and Consent to Record Agreement.