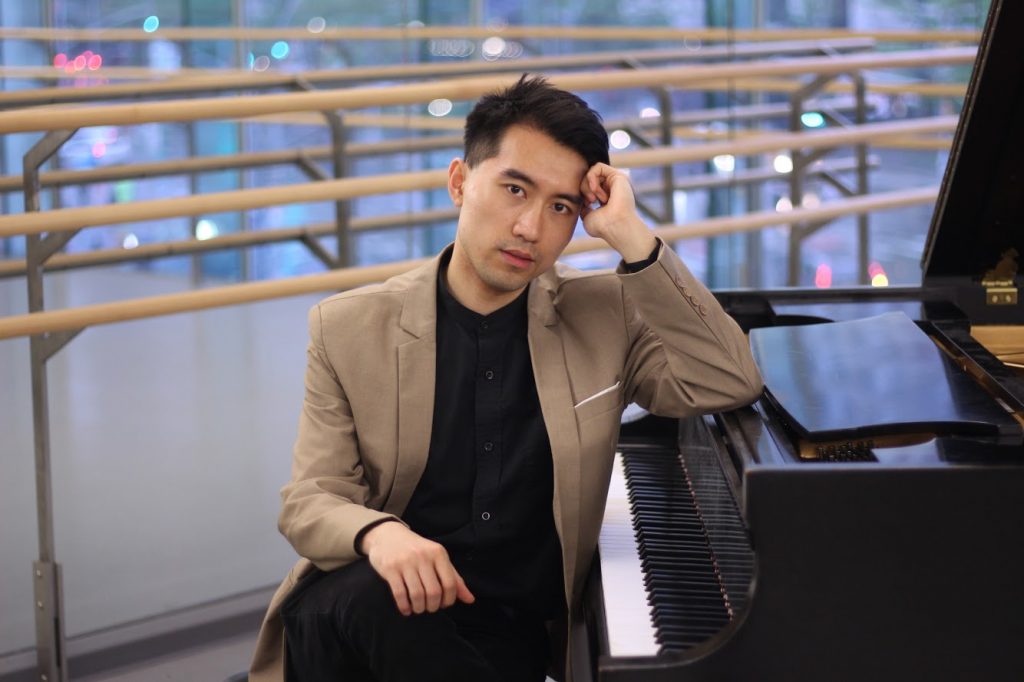 Rixiang Huang ( US: Online)
Concert Pianist;Artistic Director of Pacific Stars International Piano Competition
Praised by the New York Concert Review as "in a word, superb," pianist Rixiang Huang has inspired glowing acclaim from audiences and critics alike for his superb artistry and passionate, charismatic performances on four continents. Since winning the first prize at the 12th Chopin International Piano Competition in Hartford and Los Angeles International Liszt Piano Competition in 2021, Huang has rapidly established for himself an international reputation. His newest CD album, Endless Passion, released in April 2022, has already earned accolades from audiences and critics; Steinway Artist Rorianne Schrade remarked that his Debussy "reflect[ed] a special sensitivity, grace, and delicate tonal shading" and his Bartók "may be one of this listener's most enjoyable Bartók Sonata performances to date" (New York Concert Review).
Winner of an impressive array of prizes, Huang was a top prizewinner of the Hastings International Piano Concerto Competition, Dallas International Piano Competition, New York International Artists Piano Competition, International Piano Competition La Palma d'Oro in Italy, along with the WPTA International Piano Competition.
Highlights of the 2022-23 season include a five-city solo recital tour in China; solo recital at University of Southern California; solo recital at UWG School of the Arts in Georgia; and Rachmaninoff Piano Concerto No.3 Performance with USC Thornton Orchestra. Huang joins the artist faculty at the Montecito Music Festival in California, Tarnow International Music Festival in Poland; Concordia University Irvine Summer Chamber Music Camp; Artcial International Music Festival in San Francisco in 2022. An immersive and versatile soloist, Huang has performed extensively all over the world in prestigious venues such as Carnegie Hall in New York, Alice Tully Hall at the Lincoln Center, Universität Mozarteum – Solitär in Austria; Santander Palacio de Festivales de Cantabria in Spain; Hamamatsu ACT Concert Hall in Japan; National Center for the Performing Arts and Beijing Concert Hall in China. His performances have been broadcast by WQXR-FM, KUSC, KDFC, Classic FM, Cleveland WCLV 104.9, Sarasota WSMR 89.1 & 103.9, and Corporación de Radio y Televisión Española. Mr. Huang is represented by Get Classical Music Management.
As an active soloist, Huang has appeared with leading orchestras wolrdwide including Royal Philharmonic Orchestra in London; China National Symphony Orchestra; Indonesia National Symphony Orchestra; Chautauqua Symphony Orchestra in New York; Eastern Music Festival Orchestra in North Carolina as well as USC Thornton Symphony. He has also appeared as a guest artist with acclaimed string quartet Cuarteto Quiroga and was selected to participate in the Advanced Piano Trio Program by the acclaimed Kalichstein-Laredo-Robinson Trio.
In addition, Huang has been a featured artist at Salzburg Summer Academy Mozarteum, Orford Music Academy (Canada), Bowdoin International Music Festival (ME), Chautauqua Music Festival (NY), Art of the Piano at the University of Cincinnati (OH), Piano Texas (TX), and Pianofest in the Hamptons (NY). He has performed alongside preeminent conductors such as Carl, St. Clair, Jac Van Steen, Joel Smirnoff, Earl Lee, Eric Garcia, and has performed in master classes with Sergei Babayan, Stephen Hough, Arie Vardi, Veda Kaplinsky, Dimitry Alexeev, Pavel Gililov, among others.
Huang is the Founder and CEO of Empire Music Academy in California; he is also the Founder and Artistic Director of Pacific Stars International Piano Competition & Festival. His students have won prizes at numerous international, national, and local competitions such as Los Angeles Liszt International Piano Competition, Seattle International Piano Competition, Bradshaw & Buono International Piano Competition, WPTA International Piano Competition, International New Star Piano Competition, Bay Area Piano Competition, American Protégé, American Fine Arts Festival(AFAF), Satori Piano Competition, and many other MTAC Branch Competitions.
Huang has also been frequently invited to adjudicate piano competitions such as the Music Teachers National Association Young Artist Piano Competition, the Music Teachers' Association of California Piano Competition, Paderewski International Piano Competition, Pacific Stars International Piano Competition, International New Star Piano Competition, SYMF, Satori Piano Competition. Huang is a member of the Music Teachers National Association (MTNA), the Music Teachers Association of California (MTAC), and the California Association of Professional Music Teachers (CAPMT).
Huang received Doctoral of Musical Arts at the USC Thornton School of Music where he served as Studio Teaching Assistant, studying with prestigious conductor and pianist, Jeffrey Kahane. Huang received a Master of Music in Piano Performance at The Juilliard School, studying with legendary pianists, Jerome Lowenthal and Matti Raekallio. Previously, he worked with world-renowned pianists, Antonio Pompa-Baldi and Paul Schenly at The Cleveland Institute of Music, where he was awarded the Arthur Loesser Memorial Prize for outstanding achievement in piano performance. For more information on Huang's concert schedule, please visit: http://www.rixianghuangpianist.com/